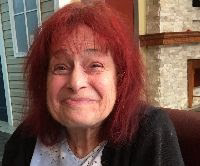 Susan Bluerock was born on Rosh Hashana in 1941 in Miami Beach. Both her parents were born in NY. She had two brothers; one recently passed away and one lives in California.
Susan Studied medicine at the University of Miami and graduated in 1962. She became a medical and X-ray technician. Susan got married in 1960. They had three boys, one girl, and seven grandchildren. Susan's husband was a record producer, and therefore they hosted many music stars in their home including Frank Sinatra, Sammy Davis Jr., and Robert Gulay.
After they were first married, Susan and her husband lived in North Miami Beach, and later moved to Hollywood. Sadly, Susan's husband died at the age of 30. About 10 years ago Susan fell ill and went into a coma. The Family was told by the hospital to plan for the funeral and that she had no hopes of survival. Miraculously, Susan came out of coma and discharged herself from hospice. She also forced the rehab to give her an intense therapy and rehabilitation program. About three years ago, she left the nursing home and transferred to the ALF where she is now. Susan is a regular participant of the TOP program. She told me her Hebrew name is Shoshana and is very proud of the fact that she was born on Rosh Hashana.